The Garment District Alliance is a non-profit organization working for the "quality of life and economic vitality" of that district in Manhattan, New-York City. To celebrate the conversion of a street from a parking and busy traffic street to a pedestrian area, the association asked local artist Steed Taylor to paint a piece of street-art there.
Magic Hour is a 70m knotwork painted in blue and gold on the pedestrian street. The sign displayed on site described the artist's road tattoo as follows:
Magic Hour refers to the transition from day to night when the sun is low and the light is golden. With his 225-ft (~70m) road mural, New York-based artist Steed Taylor captures this period of time that is satisfyingly different from the rest of the day. With this new urban oasis, the artist asks each of us to contemplate our own special time and place. Words and phrases from those who passed by during the creation of the mural have been sealed within the design, but the piece continues to ask, "What's you Magic Hour"?

Garment District Alliance presenting the street-art piece
The choice of a knotwork could not be more relevant: as its name indicates, the Garment District was traditionally known for the clothing and fashion manufacturing business in the early 20th century. And the Garment District Alliance slogan is : « weave the community together ».
Previously, in the summer of 2017, Steed Taylor also worked in the same district to create Sew and Sew, another street-art piece of a large interlace on a pedestrian area.
The Garment District Alliance often invites artists to display public art directly in the pedestrian streets and "Broadway plazas".
Steed Taylor himself refers to its street-art as « site-specific, community based, tattoo inspired, public artworks on roads ». In short: road tattoos. In his works, both street-art or studio art, Steed Taylor has tied celtic knots, often encapsulating words, phrases and names inside the design as a way of linking them together, creating a sense of community for the people that will live where the interlace is traced.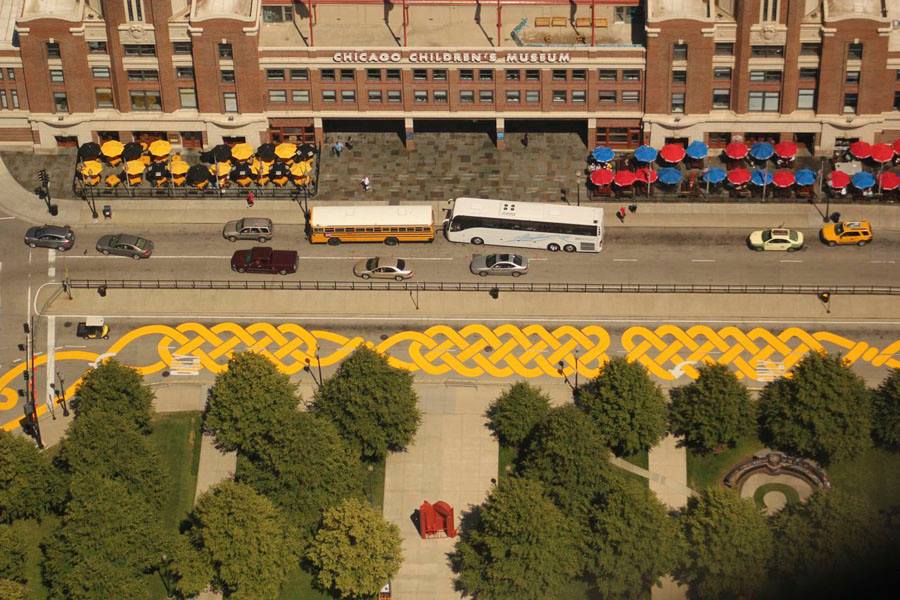 ---
Sources & links